Shaleé McClure – County Clerk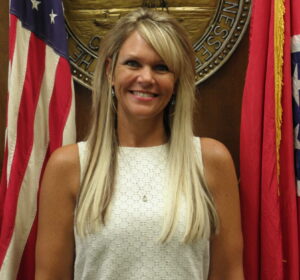 I am the new County Clerk for Cocke County. My name is Shaleé McClure.
I am a long-time employee of the Cocke County Clerk's Office, hired in 2002, working my way through positions to reach the highest position in the office, Cocke County Clerk.
I was appointed by the County Legislative Body to complete the term of Jan Brockwell, who retired midterm.
I am very happy to serve as County Clerk for Cocke County! I will work hard to fulfill all my duties, including serving on committees formed to improve and advance the many different areas of our County. Our County is filled with so much beauty and potential. We can make it even greater!
I can help with any of your problems concerning motor vehicle, marriage license and the many, many other services we provide.
I have a very qualified Staff to help this office operate at the highest level of efficiency possible. We will work together to solve all your problems.
Shaleé McClure – County Clerk
Serving Since 2020
Office Location:
111 Court Avenue
Room 101
Newport, Tennessee 37821
Phone: (423) 623-6176
Fax: (423) 623-6178
Dianne Bates – Chief Deputy
Charlene Johnson – Administrative Assistant
Deputy Clerks:
Lydia Shelton
Nicole Wiley
Lesley Wylie
Terra Stewart
Megan Revis
Danielle Smith
Drivers License:
Gary Hagerman – Director
Judy Hensley – Assistant 
County Records/Archivist:  (located in the Annex)